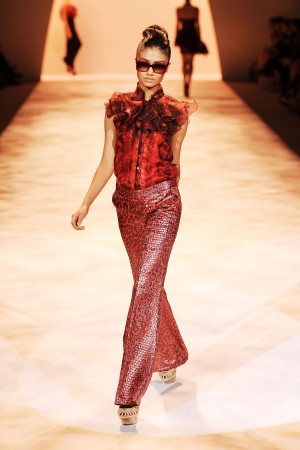 NEW YORK, Sep 9, 2010 / FW/ — When you watch a Christian Siriano show, it is hard to decide whether you want to look at the clothes or the shoes because quite frankly, the Project Runway winner has turned out to be a very good shoe designer that can actually give Christian Louboutin and Jimmy Choo a run for their money.
And though I want to discuss the clothes, I can't because my eyes were just draw to the shoes that Christian Siriano designed for Payless.
As his press notes said, the Christian Siriano Spring 2011 collection was inspired by African, Indian and Chinese influences mixed with measures of elegant opulence. The shoes uniquely meld the cultural persuasion o these four key styles and thus making them a great complement for the apparel and actually stole the show!
Four new styles of shoes – Shanghai, Mumbai, Naorobi and Zanzi – were unveiled today, each of them distinctive and gives credit to their names.
Shanghai, platform peep-toe pump, has strong Chinese influence while Mumbai was inspired by ancient Buddhist temple architecture. Nairobi was heavily influenced b the neckpieces worn by women of the Padaung tribe of Southeast Asia and the Zanzi is a bootie that features inspiration from Africa.
[MARI DAVIS]
Photos courtesy of Mercedes-Benz Fashion Week