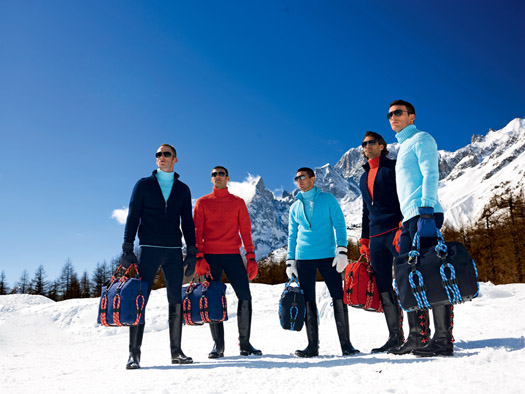 MILAN, Sep 25, 2010 / — The Dirk Bikkembergs Sport Couture lace-up leather boots and mountaineering-inspired carry bags that featured at the Fall 2010/ Winter 2011 fashion show can now be purchased exclusively via Manzoni 47, the Dirk Bikkembergs flagship store in Milan.
Two of the most striking items at the Dirk Bikkembergs Sport Couture (DBSC) AW2010 fashion show in Milan, namely the black leather lace-up boots and the mountaineering-inspired carry bags, are now available for sale. Both items will be sold exclusively by personal order via the Dirk Bikkembergs flagship store in Milan, Manzoni 47.
The boots are made of high-quality brush-off calf leather, with a leather sole with a rubber insert. They are made following the traditional Goodyear welt method, whereby the leather upper is sewn onto the inner and upper sole.
This process, which is often used in the manufacturing of men's dress shoes, makes for a strong, durable and well-ventilated product. The black leather is complemented with a clever lace design that runs up the back of the leg.
The hooks and the laces are available in different colours, thus allowing for personalization. The price of the boots is €1,370, and delivery takes some six weeks.
The second item to be sold exclusively via the flagship store is a technical, high-quality nylon carry bag. True its inspiration, the bag features real mountaineering rope, carabines and leather for the detailing and the carry handles, as well as football studs at the base. The price of the bag ranges from €965 and €1,000 depending on the version.
The Dirk Bikkembergs flagship store is located at Via Manzoni 47 in Milan's Golden Triangle. (Tel. (+39) 02.29006161 – e-mail: store.milano@bikkembergs.com)