NEW YORK, Sep 4, 2010 / — Yigal Azrouel is already a fashion darling; on September 10th, he is going to be a visual merchandising darling.
During Fashion's Night Out, at the Yigal Azrouel 14th Street location, there is going to be a store window installation by contemporary artist Megan Marrin. Can't wait to see this one!
YIGAL AZROUEL
408 West 14th Street
New York, NY
7:00 PM – 9:00 PM
WGACA to Unveil Exclusive Custom Vintage Collaborations
What Goes Around Comes Around (WGACA), New York's premier vintage lifestyle destination, joins forces with Pamela Love, George McCracken, Stefan Miljanich (Gilded Age) and Beth Blake and Melissa Akey (Thread Social) to create limited edition Custom Vintage collections.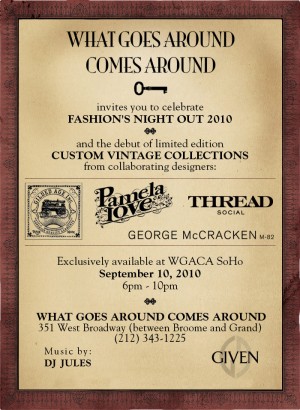 The pieces will be unveiled during Fashion's Night Out on September 10, 2010 at WGACA's SoHo store. The designers will put their own twists on vintage favorites – from hand-worked military jackets and dresses to painted denim and adorned accessories.
The pieces will be merchandised within the store and available for purchase that evening. All of the designers will be on-hand the night of the event to speak about the inspiration behind each piece, the craftsmanship of the unique design and to speak about the partnership with WGACA.
WGACA will be creating a run of above five customized punk motorcycle jackets for their FNO event. Each one of a kind jacket will be hand painted and studded, with some having interesting fabric applications like vintage faux fur.
For FNO, Pamela Love will be customizing eight WGACA vintage 1960s hippie tooled leather bags and adding details like laser engraving and metal ornaments.
For FNO George McCracken will be creating a collection of WGACA vintage re-purposed surfing t-shirts from the 1980s experimenting with graphics, a vintage Levi's jacket coated in silicone rubber, a pair of vintage military khaki pants cut into shorts and dipped in silicone rubber and a military shirt in which the collar, cuffs and epaulets have been ripped off and replaced with cotton silk double face simulacra.
For FNO, Stefan Miljanic of Gilded Age will reinvent ten pairs of WGACA vintage jeans and turn them into customized, wearable art. Each pair will be a unique design with each different then the next.
Staying true to their flirty girl roots, Beth Blake and Melissa Akey of Thread will redesign ten WGACA vintage dresses from a range of decades.
WHAT GOES AROUND COMES AROUND
351 West Broadway
(between Broome and Grand)
New York, NY