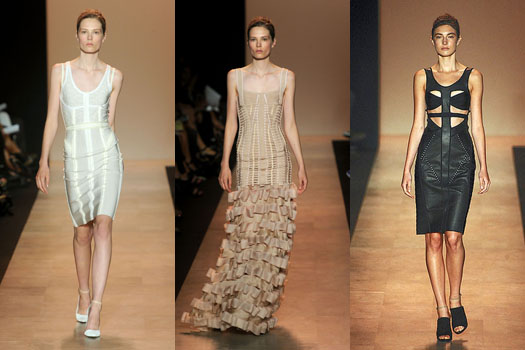 NEW YORK, Sep 15, 2010 / — Herve Leger remains strong for Spring 2011. Complex style lines were show cased while a soft color palate was embraced.
This season's silhouettes were offered in white, blush tones and the occasional accent of black. Marie Antoinette served as the influence for this season's image reinvention. The team did a great job utilizing a historic influence while staying true to modern traditional characteristics.
The bandage dress prevails while an influence of the bustle was revealed. Intricate details of these garments are always admired. However, even simple pieces are memorable. The white shear and textured cardigans are definite spring wardrobe must haves.
Spring at Herve Leger was definitely inspired and most of all well balanced. The looks portrayed a great sense of posture, and reinvented tradition for an expected successful season ahead.
[ERICA REED]
Photos courtesy of Mercedes-Benz Fashion Week
New York Fashion Week Spring 2011