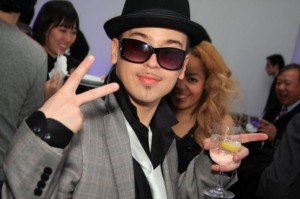 NEW YORK, Sep 4, 2010 / FW/ — On Monday, Sep 13th, Indashio will unveil his "Klub Kid Collection" under the auspices of ELLE Magazine's Style360 Spring 2011 season which will be held at the Metropolitan Pavilion.
The collection which Indashion had described as being "all about his inner party monster," will feature ready to wear, swimwear and sportswear for men and in bold neon hues including yellows, pinks, blues, oranges, etc. Cocktail dresses, a staple in Indashio's collections, will come in Chiffons, silks and jersey.
Wrapping up New York Fashion Week, Indashio and his team will prepare for his European arrival at Athens Xclusive Designer Week, October 23-26th 2010 with a showing of the SP/SU 2011 collection. The Athens Xclusive Designers Week is the international fashion week in Greece.
It is designed according to international Fashion Weeks' standards that take place in Paris , London , Milan and New York and collaborates with international fashion executives and organizations with the aid and support of various Greek Public Authorities.
AXDW is a fashion event presenting an innovative and extensive program of fashion, business, cultural and social events, allowing visitors to experience the most innovating and engaging creative interaction.
"I am thrilled to be making my European debut at Athens Xclusive Designer Week! The history and culture has always inspired me. I am looking forward to showing my collection and having Europe finally experiencing it."
INDASHIO Spring 2011
Monday, Sep 14, 2010 at 8:00 PM
Metropolitan Pavilion
123 West 18th Street
New York, NY