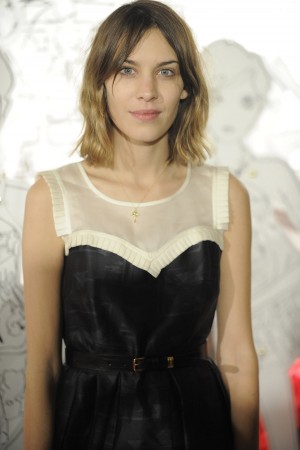 LONDON, Sep 20, 2010 / — Mulberry is in bloom for Spring / Summer 2011, and at our London Fashion Week shows on September 19th (presented at 11.45am and 1.15pm), the label invited the audience into a magical, beautiful world of floral fantasies, oversize accents and sumptuous prints.
Held in the Ballroom at Claridges hotel, the room was set up to reflect Mulberry's own take on the Secret Garden (inspired by the book by Frances Hodgson Burnett) with models emerging from a gate and walking through a 'garden' of neon pink roses.
Guests including Cat Deeley, Olivia Palermo, Gemma Arterton, Alexa Chung, Karen Gillan, Laura Bailey, Felicity Jones, VV Brown, Rachel Stevens and Brix Smith-Smart were kept fed and watered with Belvoir Fruit Farm Raspberry and Pomegranate Presses, yummy Rococo chocolates and cute mini Victoria Sponges in our Neon Wildlife Print boxes, all served by a team of 'gardener' themed waiters.
They also received the official Mulberry-sponsored London Fashion Week bag – a canvas tote picturing one of our secret garden bunnies popping out of an oak Alexa!
Surrounded by roses, colour and other spring touches the guests were taken from the bustling, metropolitan Sunday into a wonderfully whimsical world with a generous helping of playful surprises and secret garden spirit!
Photos courtesy of Mulberry
London Fashion Week Spring 2011