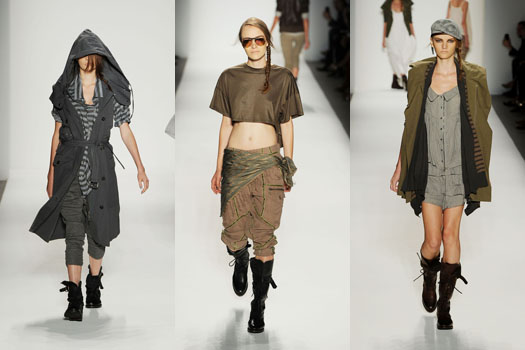 NEW YORK– Sept. 9. 2010 / FW/ — Kicking off the first Mercedes-Benz Fashion Week held at Lincoln Center was Nicholas K's Spring 2011 collection.
This season, Nicholas K showed us what the people want- military inspired, wearable clothing for any shape.  The color palette was neutral and earthy, highlighting the suppleness of his leather, hooded jackets and complementing the amazing military boots that finished each look.
From head to toe, models sported chic side-braids, aviators, layers of sheer T's, draped hoodies and utilitarian cropped cargos.
We loved the barely-there differences between the menswear and womenswear that kept the androgynous trend going through Spring.  The men sported deep V's that showed off chiseled chests and the women's  sheer cotton tops left little to the imagination.  His urban take on the traditional was what this military-inspired collection needed to keep our interest.  What I can't get past is the air of instant style Nicholas K designers Christopher and Nicholas Kunz created with their totally approachable, wearable collection.  Makes us think we should do the side-braid, urban military thing this Spring- and so should you.
[LINDSAY McCALLUM]
Photos courtesy of Mercedes-Benz Fashion Week
New York Fashion Week Spring 2011