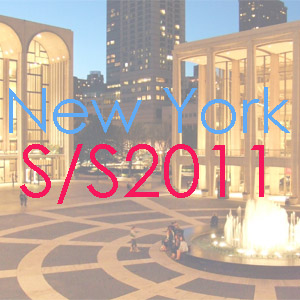 NEW YORK, Sep 4, 2010 / — While some fashion companies continue to scale back, Perry Ellis is planning to light up Fashion Week with a roster of events and programs designed to celebrate the storied brand and its Spring 2011 collection.
The centerpiece of the week is creative director John Crocco's latest collection, which will debut at Lincoln Center, the new home of Mercedes-Benz Fashion Week. The show will take place in the Stage on Monday, September 13th at 7 PM.
Evolving from fall's dressy mood, the spring show will revive Perry Ellis's sporty heritage with a collection inspired by the films of French director Jacques Tati.
"The color influences come particularly from the film "Mon Oncle," says Crocco, citing the coral, muskmelon, rose and grass hues that populate the collection. "Equally important are the color-blocking effects of Tati, his wit and humor, and the overall mood and sophisticated styling evident in his films, especially the beach-side sensibility of "M. Hulot's Holiday ."
"They have an easy yet deliberate style to them," Crocco adds. "There is an everyman humor and accessibility to his work. I find both things essential to contemporary fashion."
Perry Ellis, always a brand to tout accessibility in fashion, will broadcast the show live for the second time in its history via livestream on PerryEllis.com and Facebook.com/PerryEllis.
The livestream of the show will be preceded by twenty minutes of behind-the-scenes interviews and backstage footage as models prepare to take the runway. On Facebook, fans will have an opportunity to provide feedback and comment on styles as each look hits the runway.
Additionally, the show will pay special tribute to Project Beach, the brand's initiative to raise funds and awareness for the National Wildlife Federation [NWF] and its Gulf Coast restoration work. Project Beach, which has been incorporated into the brand's advertising and social media programs, was launched in July.
Hours before the models hit the runway, Perry Ellis will be taking over NASDAQ, where company executives will ring the exchange's closing bell in honor of Fashion Week and the 30th anniversary of the brand's menswear collection.
At 4 PM, George Feldenkreis, Chairman and CEO of Perry Ellis International and Oscar Feldenkreis, President and COO, will mark the occasion. John Crocco, models in Spring 2011 looks, and representatives from NWF, will also be on hand at NASDAQ for the momentous kick off of the Perry Ellis Spring 2011 season.