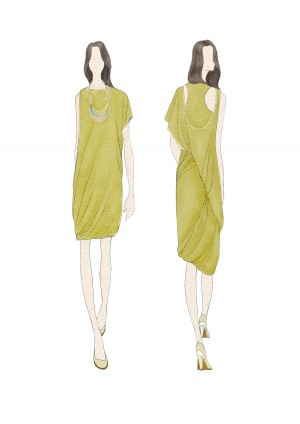 NEW YORK, Sep 1, 2010 / FW/ — An avid traveler, Ports 1961 Creative Director Fiona Cibani was inspired by the magic allure of the desert for Spring 2011.
With delicate mirage abstractions and a landscape in constant evolution as her muse, Fiona crafts a collection within a realm of harmonic contrasts.
For Ms. Cibani, each collection celebrates "the free spirit of the global traveler treasuring the motto of Ports 1961: Global Soul, Urban Spirit."
A native of Vancouver, British Columbia, Fiona Cibani grew up in a multi-cultural mosaic of a city and thus was influenced by it at a very early age.
Fiona, together with her sister Tia, began her tenure at Ports International (which will become the foundation of Ports 1961) under the then-head design team of Dean and Dan Caten, of DSquared.
With the departure of Dean and Dan, Fiona and Tia took the helm as Creative Directors at Ports. The sisters seized the moment and they became the driving force behind the transformation of this fashion house intent on building the global presence of Ports 1961.
In 2006, Ports 1961 debuted its first collection at New York Fashion Week. And this season, Fiona debuts as sole Creative Director of the brand.
[MARI DAVIS]