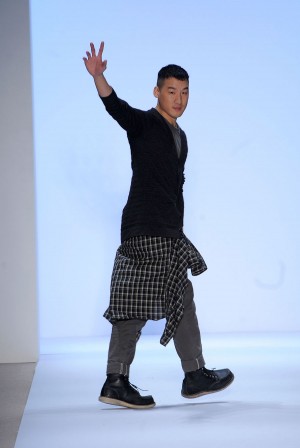 NEW YORK, Sep 4, 2010 / FW/ — One of the busiest and high profile young designers in the New York fashion scene, Richard Chai added another feather to his cap with a collaboration with Original Penguin, the classic American lifestyle brand.
A commission from the Minneapolis-based company known for sportswear apparel and accessory, the "Richard Chai for Original Penguin" Spring 2011 capsule collection will debut on the runway at Mercedes-Benz Fashion Week.
Commenting on his latest project, Richard Chai said, "I'm very excited to be designing with Original Penguin. I love the idea of searching Penguin's archives for classic vintage pieces to be reworked in a completely unique way."
The Richard Chai for Original Penguin Spring 2011 capsule collection is composed of of six to eight unique pieces and will be featured during the Richard Chai Menswear fashion show in New York City this September.
This teaser capsule will offer a sophisticated spin on signature Original Penguin pieces – classic polo knits reworked into ombre stripes, with interesting rib details, and cotton cardigans adorned with graphic prints and trims. Priced between $95 and $150, these pieces will be available in stores February 2011.
The line is inspired by iconic Original Penguin pieces re-envisioned by Chai in his signature style of elegant tailoring infused with a shot of color and splash of wit.
And though the Spring 2011 collection has not yet been unveiled, there are already plans for a full Richard Chai for Original Penguin Fall 2011 collection which is expected to be in stores on September 2011.
The complete Fall 2011 collection will offer close to 25 unique pieces priced at $95 for knits, to $400 for outerwear. This collection will showcase Chai's fashion artistry, classic tailoring, love of quirky prints, and downtown sensibility.
The "Richard Chai for Original Penguin" Spring teaser and the Fall 2011 collection will be available at OriginalPenguin.com, Original Penguin brick-and-mortar stores and select luxury retailers throughout the United States and Europe.