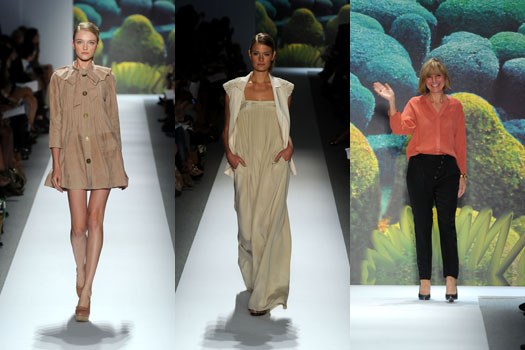 NEW YORK, Sep 16, 2010 / FW/ — Feminine classics with subtle modern twists, was the focus for Tibi's Spring 2011.
It was about functionality in separates to give fashion versatility in wardrobing from head to toe. The youthful and sophisticated color palate stepped right out of an antique storybook.
Whites grew to tan, which then grew to a mustard brown. Giving the collection it's dynamic, was the bold burnt orange as well as the black and white leopard print.
Tailored cropped and mid length jackets in solids included exaggerated pocket details. Pants were slim and crisp whiles shorts were typically high waited and seen in both relaxed and slim silhouettes.
The occasional pops of yellow and purple brought neutral tones to life. Basket weave shirts and dresses offered texture throughout the collection.
No one could help but fall in love with the flat oxfords that walked the runway in tan leather and leopard print. Fluid separates and dresses graced the runway and were paired with flat sandals. The play on, tailored vs. relaxed fits offered a simple and chic sense of style.
The collection was incredibly desirable. Whether as sets or separates, these pieces will have no problem finding their way into many amazing wardrobes this spring.
[ERICA REED]