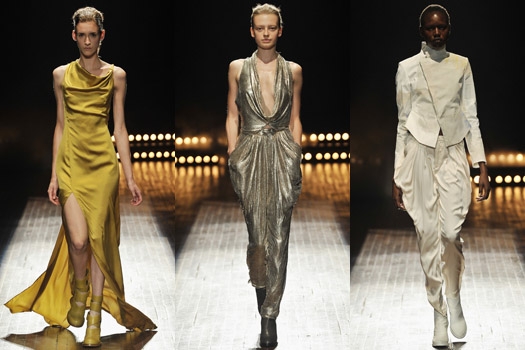 PARIS, Oct 7, 2010 / FW/ — The shiny medieval chain mail is the center of the creative search this season for A.F. Vandevorst as the Belgian design duo continues to pursue their vision of garments as emotion and/or personality-based.
With A.F. Vandevorst currently a star of the fashionable Paris Olympia, there was such a buzz about their show that a huge crowd of fans literally stormed the Wagram Hall where they were unveiling their Spring 2011 collection.
Focusing on metallics – copper, silver or gold and the silhouettes definitely medieval in origin, the collection was predominantly eveningwear. Interspersed with white and following the lines of the more modern military uniforms, A.F. Vandevorst turned to daywear for the modern city woman.
[MARI DAVIS & LIDIA BARDINA
Photos courtesy of A.F. Vandevorst
Paris Prêt-a-porter Spring 2011