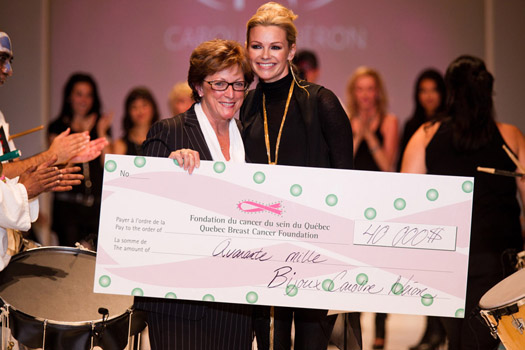 MONTREAL, Oct 1, 2010 / FW/ — Arguably the most heartwarming show of the Montreal season, Caroline Neron's grand finale was giving a $40,000 check to the Quebec Breast Cancer Foundation.
A big round of applause and a standing ovation, it was hard to decide whether it was for the big donation or the jewelry that were presented on the catwalk. I would hazard a guess and say that it was for both.
With a theme that is really more of a question, "Modern Warrior or Urban Princess?" Caroline Neron mixed tribal with vaudeville and thus eliciting both smiles and gasps from the audience.
Live music was provided by musicians with painted faces and playing on tribal drums. And to add mystery, smoke flooded the runway.
It really would have been a perfect show except for the use of the smoke machine. Everything has its own use and a smoke machine has its fair share. But using on the runway, especially in a stage that is stark white and there are no other props, smoke is more of a distraction and does not add to anything except being an annoyance.
[MARI DAVIS]
Photos by Jimmy Hamelin Photographe
Montreal Fashion Week Spring 2011