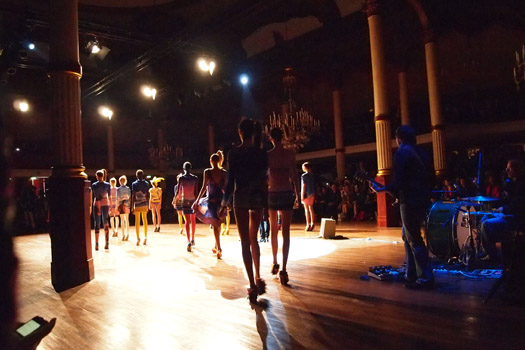 PARIS, Oct 5, 2010 /FW/ — The grand and gilded salon in which the Manish Arora show was set was the perfect addition to the already over-the-top futuristic, baroque collection.
The show began in a dark room with a performance by a musician playing an instrument that had a hauntingly electric sound as a model performing in an LED-lit vest danced around him. If that isn't forbearing for the acid-like trip we were about to be taken on, then I don't know what is.
The collection was full of color, oversized appliqués, and gold metal claws that encircled the models' bodies. Exaggeration was king in this collection, and not exactly what we saw in New York.
Bright pastels, structured peplums on the hips and extended shoulders exaggerated the female curves. Latex leggings that made the models appear like plastic Barbies, or perhaps more like an army of Lady Gaga's.
The last half of the collection consisted of pieces that were printed with sunset and beach scenes. The collection strayed as far away as possible from anything we have seen so far, but it was thought-provokingly out-there.
The structure to the garments was reminiscent of old meets new, but the embellishments and colors were all nouveaux.
[LINDSAY McCALLUM]
Paris Prêt-a-porter Spring 2011