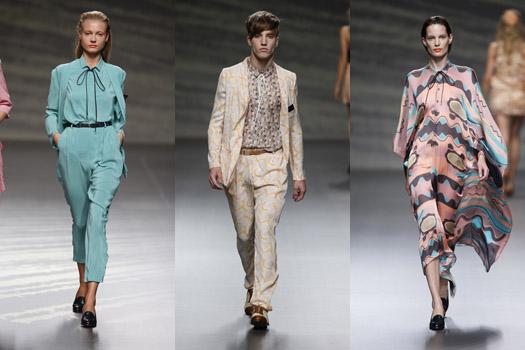 MADRID, Oct 23, 2010 / — Entitled "Scratch", Elena Martin, designing under her own label Martin Lamothe presented her collection on September 18th, during Cibeles Madrid Fashion Week.
With the focus on the scratch, the marks and the prints, Elena Martin also had to talk about the art of bondage, and its frozen, hung effect on the person and on the skin.
Inspired by the works of Sam Taylor wood and Araki, photographers that capture bonding and suspended girls, Martin captured on textiles the poses and movements frozen and time with the photographs.
The time and its consequences are re-interpreted in specific cuts of the fabric, placed and torn to create the frozen movement. The general line is pure and strict, with big and stiff elements that create Simplicity above all.
The colours are the contrast in between neutrals and f very intense colouring, but so pale they feel almost fluorescent. Its use its also particular, very clear very flat to difference them clearly.
The textiles are stiff in general, with the use of waxed cottons and double face techs. The leather does not have the "organic" feel and a new fabric of cel.lulose (paper) plays a main role. Briefly, the collection speaks about the feel of time, the start from SCRATCH .
Photos courtesy of Cibeles Madrid Fashion Week
Madrid Fashion Week Spring 2011