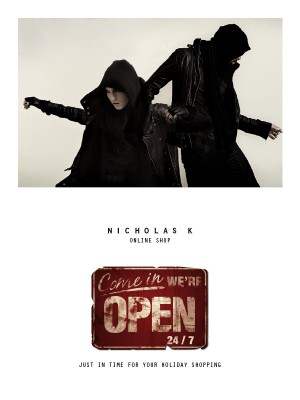 NEW YORK, Oct 26, 2010 / — Following their exciting solo debut at Mercedes-Benz Fashion Week in New York (and the first show EVER at Lincoln Center), Nicholas K now announces the addition of an E-Shop on their website: http://www.nicholask.com/store/  
Both the women's and men's Fall/Winter collections are now available for online purchases. Just in time for the holiday season, there are also Gift Certificates available AND they will be shipping orders both domestically and internationally (no returns for int'l purchases). There is also a detailed size guide to best determine the right sizes to order from this brand.
Known for making fantastic outerwear, the Nicholas K E-Shop launches just in time for winter coat & jacket purchases.
For her Fall/Winter 2010/2011 collection, now shown on the site, designer Nicholas Kunz created a look that appears effortlessly thrown together yet sophisticated, with a nomadic, tribal feeling. The brand's trademark aesthetic, slightly disheveled yet sexy, is perfect for travel and translates easily from day to night.
Oversized silhouettes are prevalent, with gauzy shirts and textured fabrics such as crinkled or bubbled cottons. The collection has an organic feeling and as always, functionality and comfort are key elements. Highlights include vegetable-dyed leathers, long flowing dresses and detachable faux fur around the collars and hoods for added warmth.
The collection color palate is inspired by the desert and ranges from dark and monochromatic to earthy, clay tones mixed with muted, sun-bleached and faded pastel colors. Abstract prints are reminiscent of tribal paint and desert fossils. The color scheme and prints parallel that of the nomadic lifestyle of always being on the go and exposed to new adventures and realities.