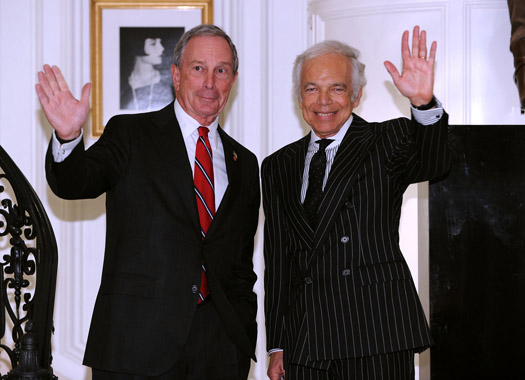 NEW YORK, Oct 14, 2010 / FW/ — During the medieval times, the practice of presenting a key to an individual was a great honor, as it symbolized free entry to a city usually surrounded by walls and guarded by watch towers.
The walls and watch towers might just be footnotes in history today, but the honor of receiving a key to a city lives on. And today, Ralph Lauren, founder and patriarch of Polo Ralph Lauren received that honor as Mayor Michael Bloomberg presented the famed designer with a key to New York City.
With Jessica & Jerry Seinfeld, Martha Stewart, Charlie Rose, Vera Wang, Graydon & Ana Carter, Candice Bergen & Marshall Rose, Former Mayor Dinkins, Diana Taylor, Patti Harris, Arthur Sulzberger, Mike Gould, Terry Lundgren, Terry Semel, Robert Rubin, Jon Tisch and Sandy Weill in attendance, Ralph Lauren received the Key to the City of New York from Mayor Bloomberg at the newest Ralph Lauren Women's store at 888 Madison Avenue.
First given in 1702, the Key to the City of New York is presented to distinguished persons for outstanding civic contributions.
Past recipients of the Key to the City include winners of the New York City marathon, Olympic Gold medal winners Sarah Hughes and Jimmy Shea, Mets pitcher John Franco, Yankees pitchers David Cone and David Wells, the Dalai Lama, Nelson Mandela, Pope John Paul II, Mikhail Gorbachev, Mother Theresa and the 1980 US Olympic Hockey team.
With 22,000 square feet of retail space, the Ralph Lauren Women's store in Madison Avenue and 72nd Street is the brand's largest women's store and offers several firsts – a lingerie line, fine jewelry and made-to-order suits for women.
[MARI DAVIS]
Photos courtesy of Ralph Lauren