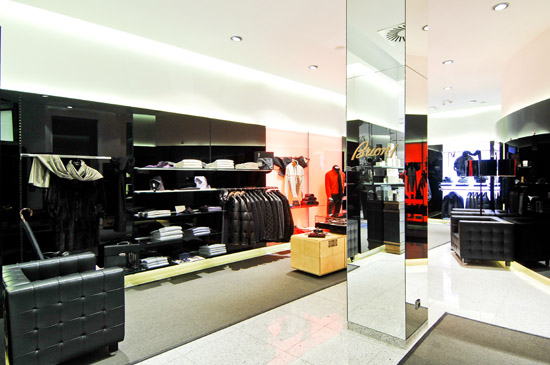 MILAN, Nov 8, 2010/ — Brioni is strengthening its presence in Europe, ushering in a lounge area boutique Sir Anthony of Vienna.
The Brioni lounge – designed by Studio Galante – Menichini Architects and Ignazio Galante Nicholas Menichini – offers about 80 square meters of retail space decorated with distinguished Brioni carpets, coffee tables, chairs and the exclusive Brioni trunk, a true icon the philosophy of the brand.
The bronzed brass, the travertine flooring and sisal along with velvet curtains give the refined atmosphere of "Made in Italy" and fuses with the distinctive Viennese furnishings.
And since it is located in the famous and prestigious Sir Anthony multi-brand store at the covetable address at Kärntner Strasse, the new Brioni Lounge accommodates a new concept for the brand.
While offering the perfect men's collection for a variety of looks that also respects a refined dress code, the Brioni Lounge is also a relaxing space the share the atmosphere of Brioni.
The inauguration took place with a cocktail in the same boutique, which was attended by many guests and local dignitaries present Antonella De Simone, granddaughter of one of the founders of Brioni and Kurt Wiedmann, owner of Sir Anthony.
Comments Antonella De Simone, "We are very proud to be here for the opening of this new space in a city where Brioni has been present for more than 30 years. Vienna is an important hub of the European market and at the 65th anniversary of Brioni, we have decided to offer our customers a new concept store that best represents us in a fascinating city like Vienna."