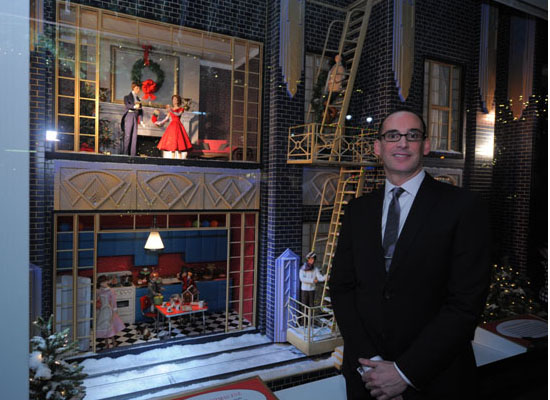 NEW YORK, Nov 19, 2010 / FW/ — You better watch out, you better not cry, you better pout, or you will not see the 73rd animated Lord & Taylor store windows in New York's Fifth Avenue.
Every Christmas since 1938, Lord & Taylor has created mechanical store windows which is designed and executed by a team of over 50 people for a period of 6-8 months.
Lord & Taylor's windows are the only department store windows on hydraulics. The windows are created in a workshop underneath the Fifth Avenue sidewalk and are then moved onto street level.
Though every year is special, Christmas 2010's "Share the Joy" is unique. Leveraging the power of social networking, Lord & Taylor asked customers, friends and family to share their favorite holiday memories and traditions over Facebook and by sending in letters.
Inspired by these submissions, the four Fifth Avenue windows came to life with 12 Christmas scenes set in New York City over the past 50 years.
Scenes included: Haul Out the Holly, A Disco Christmas, Holiday Dresses, All I Want for Christmas, White Christmas, A Toast on Christmas Eve, Our Gingerbread House, Deck the Halls, Rudolph, Ho Ho Ho, Waiting for Santa and Picking Out a Christmas Tree.
The customer names and stories that inspired each mechanical window scene are displayed in the window for viewers to see.
And on November 15th, when the Christmas store windows were unveiled, it became an unforgettable event with performances by the Young People's Chorus of New York City and Tony award-winner Kristin Chenoweth along Fifth Avenue. The Young People's Chorus of NYC performed "Share the Joy," a holiday song composed exclusively for Lord & Taylor by YPC Artistic Director and Founder, Francisco J. Núñez, and Jim Papoulis.
This special shopping event and show has become a holiday tradition for millions of New Yorkers and tourists alike. This year, for the first time ever, the event was live-streamed online to allow those unable to attend to partake in the festivities.
A video with highlights from the event was created and is available for viewing at: www.lordandtaylor.com/share throughout the holiday season.
Brendan Hoffman, President and CEO of Lord & Taylor, officially opened the windows at 5:30 p.m.
"The annual Christmas windows are our gift to New York City and I'm excited that this year we can share the magic of this tradition with everyone around the world through our video on our website," commented Hoffman.
[MARI DAVIS]
Photos courtesy of Lord & Taylor