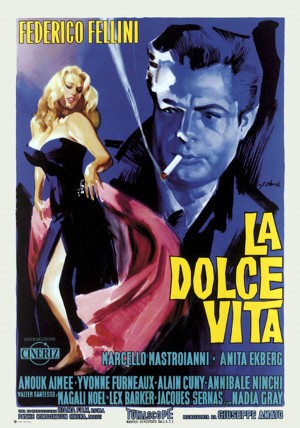 MILAN, Nov 2, 2010 / — With a fashion show at the Excelsior Hotel in via Veneto in Rome, Italian designer Michele Miglionico celebrated the 50th anniversary of "La Dolce Vita" as he interpreted the jet set life of the 1950s and the 1960s with couture dresses.
The fashion show was a fitting and timely tribute to the Fellini masterpiece. "La Dolce Vita" has been restored by "The Film Foundation" led by the Italo-American director Martin Scorsese, and the newly restored film will be shown during the 5th edition of the International Film Festival in Rome (28th October – 5th November).
On the catwalk, the designer Michele Miglionico exhibited the world of his haute couture made of details, precious manufacturing and of everlasting elegance.
The years between '50s and '60s have been his main inspiration to choose the different fabrics: quilted silk joint like duchesses, double cashmere, double woolen crêpe, mikado and taffetas faille or georgette with precious simple laces or embroidered with floreal motifs.
The point d'esprite and the soft silk are edged by ruches or important woolen laces or more very fine Chantilly. The themes always show delicate watercoloured or made in romantic mood roses, but he has also proposed modern black and white graphic elements.
The collection is smart, refined and feminine, in honour of the women of that period. Skirts with a large pleat in the front moderately over the knees, tailleurs with a bowl collar, dresses with bolero jackets that can become simple shoulder covers and tight but well sustained shoulders.
All combined to exclusive Gianna Meliani shoes, Ripani bags, hair look and make up by Ernesto Biagetti of the "B&B Beauty Center".
With this event, Michele Miglionico has recalled one of the most important movies in the history of the cinema: "La Dolce Vita", but also has opened the eyes to a new world with the obsession of the style, of the Fashion and the celebrity.
It has been a period of transformation for the "Città Eterna", international elegance and jet set life that helped the Italian style to be known abroad, to create a cultural picture of our country in the world and let the "Made in Italy" to be famous all over the world.