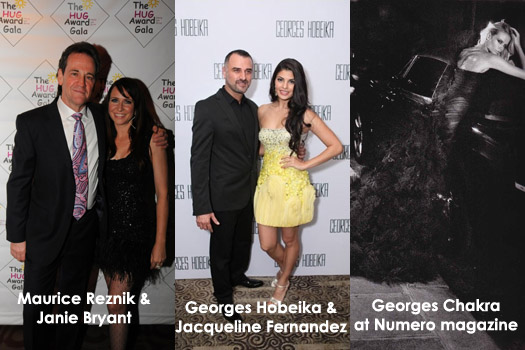 2010 H.U.G. Awards
NEW YORK, Nov 5, 2010 / FW/ — Mad Men's Emmy-winning costume designer Janie Bryant attended the 2010 H.U.G. Award Gala honoring Maidenform Brands President & CEO Maurice Reznik.
Ms. Bryant who was recently named wardrobe expert for Maidenform also even donated her collection of Mad Men dolls for a silent auction to help raise funds for The Howard A. Rusk Institute of Rehabilitation Medicine.
The HUG Awards was held at the New York hot spot 230 FIFTH for the pediatric ward at The Howard A. Rusk Institute of Rehabilitation Medicine at NYU Langone Medical Center. It is staged by the nonprofit organization Intimate Apparel Square Club.
Georges Hobeika in Sri Lanka
Designer Georges Hobeika was in Colombo, Sri Lanka this past week wherein he attended the Carlton Suwa Sevana children's charity fashion event. The event was hosted by First Lady Shiranthi Wickramasinghe Rajapaksa of Sri Lanka and was produced in partnership with Georges Hobeika.
For the event, Georges Hobeika wardrobed Bollywood actress and former Miss Sri Lanka, Jacqueline Fernandez who looked radiant in one of his creations.
Georges Chakra at Numero Magazine
Designer Georges Chakra continues to be a favorite for editorial shoots, the latest being at Numero, a leading magazine that offers an avant-garde view of fashion, art and luxury.
[MARI DAVIS]