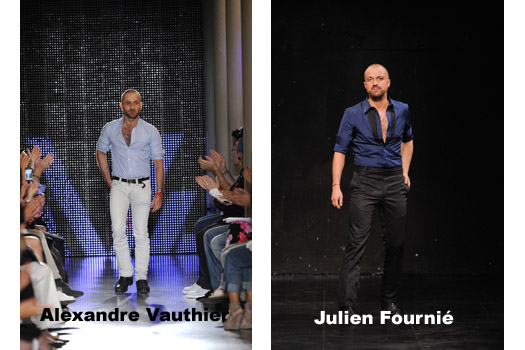 PARIS, Nov 22, 2010 / FW/ — The Fédération Française de la Couture, France's fashion governing body announced last week that Julien Fournié, Alexandre Vauthier, Maxime Simoens have been voted as Guest Members of the Chambre Syndicale de la Haute Couture as they were voted in by the Executive Committee who met Tuesday, November 16th.
By virtue of this announcement, the three designers will be showing their collection in the official calendar of the Paris Haute Couture Spring 2011 season which is slated on January 24 – 27, 2011.
Julien Fournié
Honing his skills under Claude Montana and Jean Paul Gaultier, Julien Fournié became the Artistic Director of Torrente Haute Couture from 2003 – 2004. Expanding his horizon, he was a Creative Consultant to a multi-national Asian firm for two years after which he returned to Paris and worked for Charles Jourdan and Ramosport.
Wanting to be on his own, Julien Fournié launched his eponymous label in 2009 and since then he had proposed three haute couture collections while showing off-calendar, which is a requirement of the Chambre Syndicale de la Haute Couture to be considered for membership.
Singers Cheryl Cole and Ebony Jones and actress Gabriella Wright are among his followers. Julien Fournié was the winner of the Grand Prize of the City of Paris 2010
Alexandre Vauthier
Passionate and determined, Alexandre Vauthier joined Thierry Mugler studio right after his fashion studies. After Thierry Mugler, Alexandre Vauthier joined Jean Paul Gaultier as Head Designer of the still nascent couture collection. This rich 8 years of experience strengthened Vauthier's desire to realize his own fashion house.
Known for his his geometric and architectural silhouettes, Alexandre Vauthier was also among the nominees for the Award ANDAM 2010.
A favorite of fashion editors from all over the world, Alexandre Vauthier has also caught the eye of R&B artist Rihanna who had ordered several outfits for her shows and for the cover of one of her albums.
Maxime Simoen
A graduate of the Ecole de la Chambre Syndicale de la Couture Parisienne, Maxime Simoen prefers to have showroom presentations instead of runway shows. Since 2008, he had been proposing collections during the haute couture season in Paris.
Maxime Simoen was among the finalists for the 2009 Festival of Fashion and Photography, Hyères.