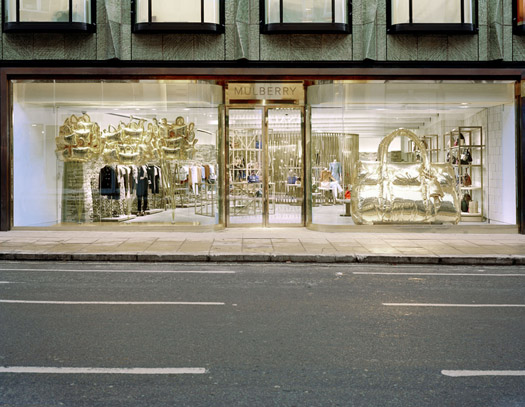 LONDON, Dec 9, 2010 / — The English luxury company Mulberry, synonymous with celebrities such as Alexa Chung, Olivia Palermo and Gemma Arterton, is celebrating their new flagship store. Located at 50 New Bond Street, the new sore is the result of a two-year collaboration with Universal Design Studio.
Shoppers will be awed by an innovative, dynamic, environmentally friendly and a unique retail environment that reflects the brands aesthetic.
Features such as an undulating stone wall, created using the traditional British craft of dry stone walling, is not the type of feature you would expect to see in a luxury brands store, yet this is exactly what Mulberry have installed.
The 5,400 feet store, combining the best of British design with ecological and ethical functionality, features the beautifully designed undulating stone wall that forms the backbone of the store. The feature is a key element in Mulberry's drive to create a series of stores that subtly contrast the traditional with the modern whilst supporting energy conservationism.
With worldwide acclaim for highly-crafted fine leather goods, , Mulberry, has today announced their interim results for the six months ended 30 September 2010 which has seen total revenues increased by 38% to £44.7 million with profit before tax increasing by 207% to £4.7 million.
Additionally the new store is expecting to be awarded a BREEM rating of 'Excellent' – a highly unusual accolade in retail developments and one that Mulberry and the stores design partners are proud of.
The video gives a sneak peak at the new store while explaining the new feature. For a more in-depth look at the project from start to finish visit: www.fiftynewbondstreet.com