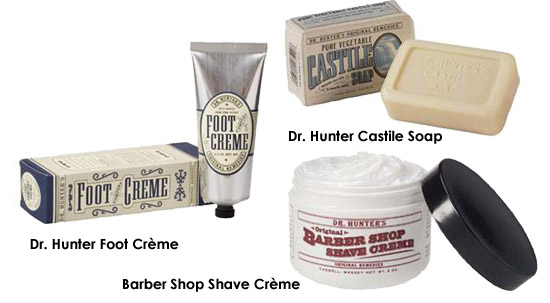 Dr. Hunter Foot Crème makes a great stocking stuffer featuring softening benefits to tired, aching feet with extracts of Lavender, Balm mint, and Rosemary combined with oils of Tea Tree, Spearmint, and Sunflower. $12
Dr. Hunter Castile Soap –
Simply put it's the purest, mildest soap that Caswell-Massey offers. Made with pure vegetables this product has been unchanged since 1861, the Castile Soap forms a luxurious lather to protect and moisturize. $9
Barber Shop Shave Crème –
For a good old fashioned shave, just like watching Dad shave when you were a kid. Barber Shop Shave Crème tames the most stubborn facial hair without irritation or drying leaving skin smooth, soft and comfortable. $16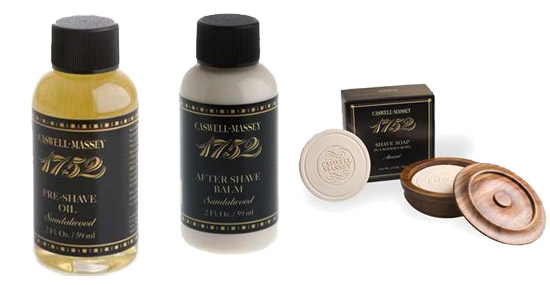 A blend of moisturizing natural oils and extracts that prepare facial hair for shaving and help to prevent razor burn and ingrown hairs. Chamomile oil is used to soothe the skin while Rosemary and Sage oil provide a mild antiseptic. $12
Scented with the popular Almond fragrance it soothes the skin and restores its natural moisture. The Almond After Shave Balm is made from sweet almond oil, one of nature's finest moisturizers, and aloe vera, nature's finest healer. $12
In a polished wooden bowl, the triple- milled Almond Shave Soap has a rich fragrant lather for the nick-free comfort of a barber shop shave. The soap is made with a pure vegetable base and natural coconut oils. 1 bar and wooden bowl $16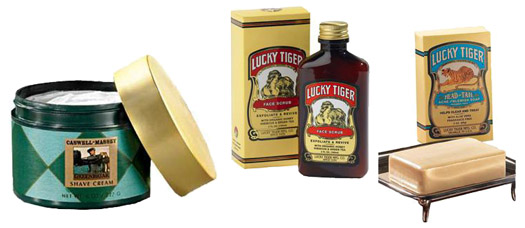 Use this rich lathery cream to prepare the beard for an incomparably close shave. With a crisp scent underscored with a hint of woodsy brawn the Greenbriar Shave Cream gives a close, comfortable shave that leaves the skin smooth, soft, and moisturized. $16
Exfoliate, revitalize and brighten skin by lifting dead skin cells and minimizing pores. Organic and gentle enough to be used regularly for a deeper clean. Lucky Tiger Face Scrub is a great way to prep before a shave!
Lucky Tiger Acne & Blemish Soap-
Made with Aloe Vera, this strong yet gentle, this facial soap controls oil and dirt buildup. Help heal acne outbreaks and prevent the formation of new breakouts with this antiseptic, anti-bacterial soap.