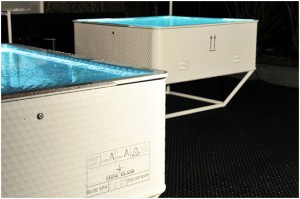 MUNICH, Dec 17, 2010 / — High end men's clothier Stone Island is collaborating with Bayerischer Hof hotel in Munich in making POLAR BAR, a temporary outdoor bar during winter time a reality.
Located at the Bayerischer Hof terrace on Promenadeplatz, POLAR BAR is the brainchild of Horst Wittmann and Konstantin Landuris, the young, emerging German designers and owners of the studio Hansundfranz, the POLAR BAR is designed to be a polar station, with a nomadic and very flexible character.
Guests get the impression that polar scientists stopped for a little while in the eternal winter to have a party on the ice.
The bar elements are reminiscent of expedition containers and are equally handy: they serve both as the bar counter itself and as storage space. The metal surface with its honeycomb pattern has an industrial look and was originally used in the automotive and aeronautic industry.
Stone Island's contribution to the project is based on the use of some of its most innovative materials: the ICE JACKET FABRIC, the heat sensitive fabric that changes color according to changes in temperature and REFLECTIVE FABRIC, which is highly reflective owing to its coating of glass micro spheres.
These fabrics have been used for the fleece-lined blankets offering protection from the cold and the covers of some of the furnishings.
"The POLAR BAR project appealed to me straight away. I found many aspects in common with theStone Island philosophy. The history and prestige of the Bayerischer Hof Hotel has been combined with a propensity towards modern design exploration in the project by Konstantin Landuris and Horst Wittmann. I am sure that it will be an interesting initiative and hope it will be the beginning of a long association, " commented Carlo Rivetti, President of Stone Island