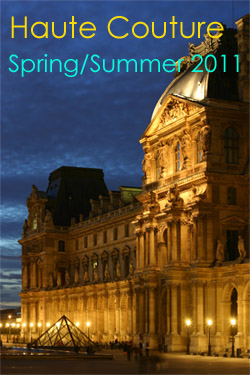 PARIS, Dec 13, 2010 / FW/ — Fashionistas received an early Christmas gift today from the Chambre Syndicale De La Haute Couture when it releases the tentative Spring / Summer 2011 Haute Couture schedule.
Slated on January 24th to the 27th, the Paris Haute Couture season continues to be the crème de la crème of fashion as ladies from all over the globe descend to the French capital to view and of course discretely shop for their wardrobe.
As already reported here at FashionWindows, three new names have been added to the official calendar – Alexandre Vauthier who is showing on Monday, Jan 24th, Julien Fournié who is showing on Tuesday, Jan 25th and Maxime Simoens who is showing on Wednesday, Jan 26th.
Alexis Mabille is opening the season while Valentino unofficially closes the season at 6:30 PM Wednesday, Jan 26. Officially, January 27th is the last day of the haute couture season, but this day is dedicated to jewellery hence the runway shows only happens for three days.
Below is the tentative schedule as released by the Chambre Syndicale. It is still subject to change.
Monday, January 24, 2011
1030 ALEXIS MABILLE Musée Bourdelle – Paris 15e
1130 CHRISTOPHE JOSSE To be confirmed
1230 BOUCHRA JARRAR To be confirmed
1439 CHRISTIAN DIOR Musée Rodin – Paris 7e
1630 ALEXANDRE VAUTHIER To be confirmed
1800 GIORGIO ARMANI PRIVÉ Espace Vendôme – Paris 1er
Tuesday, January 25, 2011
1000 CHANEL Pavillon Cambon Capucines – 46 rue Cambon – Paris 1er
1200 CHANEL Pavillon Cambon Capucines – 46 rue Cambon – Paris 1er
1430 STÉPHANE ROLLAND Théâtre National de Chaillot – 1 place du Trocadéro – Paris 16e
1600 ATELIER GUSTAVOLINS Studio Harcourt – Paris 8e
1700 GIVENCHY See invitation
1800 ADELINE ANDRÉ To be confirmed (Paris 3e)
1900 MAURIZIO GALANTE See invitation
2000 JULIEN FOURNIÉ To be confirmed
Wednesday, January 26, 2011
1000 ON AURA TOUT VU To be confirmed
1100 FRANCK SORBIER See invitation
1230 ELIE SAAB Théâtre National de Chaillot – 1 place du Trocadéro – Paris 16e
1430 JEAN PAUL GAULTIER 325 rue Saint-Martin – Paris 3e
1600 MAXIME SIMOENS Espace Commines – 17 rue Commines – Paris 3e
1700 MAISON RABIH KAYROUZ Couvent des Cordeliers
1830 VALENTINO Hôtel Salomon de Rothschild – 11 rue Berryer – Paris 8e
Thursday, January 27, 2011
1100 to 1800 – See invitations for locations
BOUCHERON,
CHANEL JOAILLERIE
CHAUMET
DIOR JOAILLERIE
VAN CLEEF & ARPELS