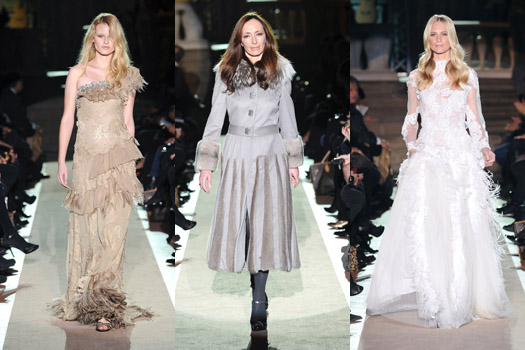 MILAN, Jan 12, 2010 / — Yesterday in Florence, Alberta Ferretti and singer Elisa kicked off the 79th edition of Pitti Immagine Uomo with a fashion show featuring celebrity catwalkers and supporting the the Jourdan River Foundation, founded and chaired by Her Majesty Queen Rania of Jordan, which supports the emancipation and independence of women.
Performing an acoustic version of some of the tracks from her latest album, "Ivy", Elisa enhanced the magical atmosphere of the show which featured 30 dresses worn by top models, socialites, researchers, lawyers, actresses and sportive women connected to important humanitarian causes.
Commenting on her performance, Elisa said, "I'm honoured to take part to this event for its unique essence. As artists we have the possibility to have our voice listened by many people and it's wonderful to be able to convey positive messages to our followers through our art."
On collaborating with Elisa for the show, Alberta Ferretti said, "I'm flattered to collaborate with such a special, talented and socially committed artist like Elisa. Above all I'm fascinated by her external fragility and her great inner vital strength. Her extraordinary and unique voice along with her sensibility will ennoble the event even more and I'm glad she took enthusiastically part to it"
The fashion show was held at the the deconsecrated Church of Santo Stefano al Ponte, one of the jewels of the Florence past. The dresses will be shown by Zani Gugelmann Amanda Hearst,Eva Riccobono, Matilde Borromeo, , Martina Colombari, Camilla Belle, Nicole Grimaudo, Carmen Dell'Orefice, Marisa Berenson, Georgie Henley, Tamsin Egerton, Talulah Riley, Olivia Inge, Marpessa, Darya Spirovadova, Nieves Alvarez, Nathalie Moelhaussen, Sarah Felberbaum, Alessia Piovan, Katy Saunders, Virginia Valsecchi, Chiara Ferragni, Valentina Gambino e Costanza Honorati.
[nggallery id=295]