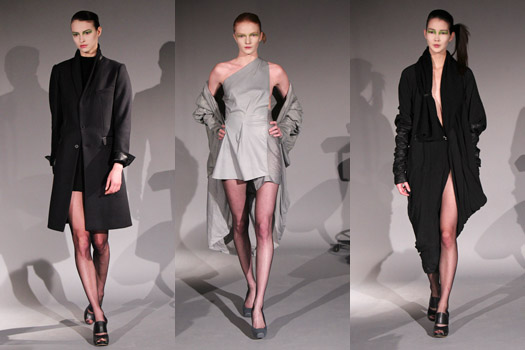 PARIS, Jan 27, 2011 / FW/— Ampleness, fluidity, comfort and lightness are the key words of Collection 016, in which Gustavo Linds has achieved unprecedented purity, virtually eliminating darts and seams to enhance the fabric's plane and mass.
A constructive logic dictated by maximum use of fabric, in which geometry- the square, rectangle, and the spiral- is now even more essential. Most of the jackets and coats are reversible, but can also be worn 'upside down' with the colar turned down at the back, the garment's skirt becomes an opulent stole on the shoulders.
Conversely, the scarf collars and cardigans can also find themselves 'head down', wrapped around the waist. Each piece wraps itself gently around hte body, as if one was crossing a shawl over one's shoulders or curling up inside a fur or cashmere plaid on a cool summer evening.
Gustavo reworked structural details, often taken from the male wardrobe, by shifting their volumes and twirling the fullness of certain men's designs to adapt them to the female figure.
The allusions to the traditional cut of the Japanese kimono are even more subtle: the high, voluminous collars of the coats are inspired by the crossed sash collars of the kimono, either blown up like airbags or widely draped like shawls.
The comfortable armholes of the cardigans and parkas were tightened at the elbows by long, glove like leather or knitted sleeves, which can also be pulled up or folded back on the forearms like gloves.
The omnipresence of black focuses attention on these constructive principles: in a dinner-suit version with a Zazou fullness for trouser, in a strict, refined Saville Row coat, a flannel suit with a jabot collar and a lamb's silk skirt. Colors and textures diversify in the daywear, creating striking contrasts in a range of greys.
Gustavo's poetic finale originated in a dreamlike vision, in which he imagined a naked Brazilian Indian woman resting, watching storm clouds passing overhead and wanting to reach out and grab one. By the power of the imagination alone, the young woman managed to seize hold of one of the strands of vapor and dress herself in it. Gustavo Lins breathed lyricism into a definitively artistic evening composed of unique pieces.
[LINDSAY McCALLUM]
Paris Haute Couture Spring 2011