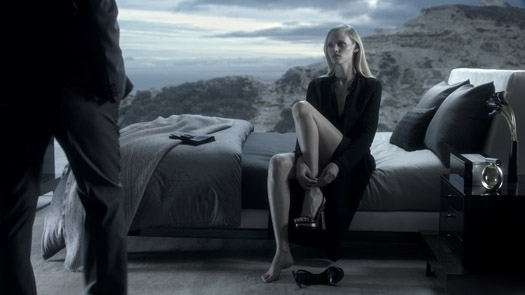 NEW YORK, Jan 14, 2011 / — A perennial celebrity favorite, Calvin Klein Collection attends one of its elite clientele's biggest nights – the Golden Globe Awards.
The new Calvin Klein Collection television commercial will be featured in the U.S. during the live broadcast of the 68th Annual Golden Globe Awards this Sunday, January 16th on NBC at 8:00 PM EST/5:00 PM PST.
Several versions will air multiple times throughout the evening, including a special :60 second spot. Additionally in New York City and Los Angeles, Calvin Klein Collection will also be tagged in over 250 spots as the local sponsor of the awards show, in the days leading up to the live broadcast.
And, for the first time in the brands history, a Calvin Klein Collection television commercial will also be included in the mix of media. The creative features supermodel Lara Stone alongside male model Tyson Ballou. Shot on location in La Jolla, California, and directed by Fabien Baron.
"Our aim was to produce a luxury lifestyle commercial showcasing our Calvin Klein Collection products. It elegantly features men's and women's apparel and accessories, as well as items from our home collection," said Tom Murry, President & CEO, Calvin Klein, Inc.
"I believe the creative conveys the message that Calvin Klein Collection – our halo brand, positioned at the top of our global brand pyramid – is modern, timeless, luxurious, and sexy."
The creative will begin during the pre-show red carpet programming and continue throughout the evening and into the following day on major network and cable television.
The Calvin Klein Collection commercial will also be featured on NYC Taxi TV for four weeks beginning this weekend to achieve an approximate 2.7 million impressions, as well as robustly featured in large format, high impact executions on VOGUE.com, as one of the site's key sponsors.
[MARI DAVIS]
Photo courtesy of Calvin Klein Collection