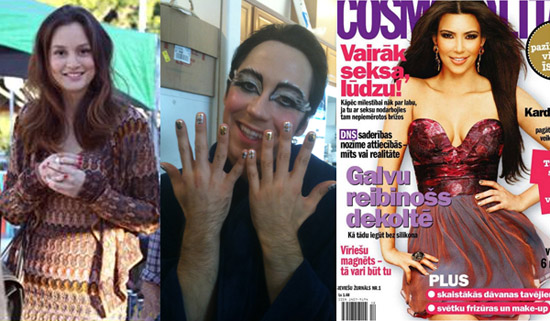 DALLAS, Jan 5, 2011 / FW/ — Our photographers must be suffering from winter blues. But though the submissions are few, they are also very refreshing.
Gossip Girl star Leighton Meester chose to wear a dress and cardigan from the Missoni Pre-Fall 2010 Collection when she graced the launch of "Portraits of Hope" Art Project yesterday at Santa Monica, California.
Kim Kardashian was on the cover of Cosmopolitan Latvia December 2010 issue. Inside the magazine, Kim revealed her beauty tips. For nails, Kim features her Golden Lightning Minx nails applied by nail technician Michelle Saunders!
Johnny Weir, three-time U.S. National Skating Champion and "Skating with the Stars" host, was minxed by LA-based celebrity manicurist Melissa Bozant.
Weir, who has been minxed a number of times for his appearance on "Skating with the Stars" announced this season's winners on December 21, 2010 sporting Golden Houndstooth Minx nails.
[MARI DAVIS]