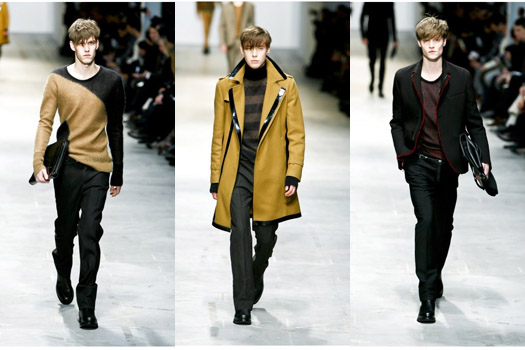 MILAN, Jan 16, 2011 / FW/ — A perennial favorite of FashionWindows, Ennio Capasa continues his winning streak with his Fall 2011 Costume National Homme collection with his military inspired tailoring proposed in gallant colors.
In a season characterized with an optimistic outlook, Ennio Capasa is on the forefront with his one-stripe black & grey turtleneck, royal blue & black stripes pullover; dual tone and dual fabric coats.
Mixing and matching colors and materials, there is boldness in Capasa's proposals. The rock & roll element remains but there is also a touch of the grown up metro male works in the financial district.
Still very youthful, even audacious at times, yet there is also a certain finesse that just makes you say, "hmm… that guy is a babe!"
[MARI DAVIS]
Milano Moda Uomo Fall 2011