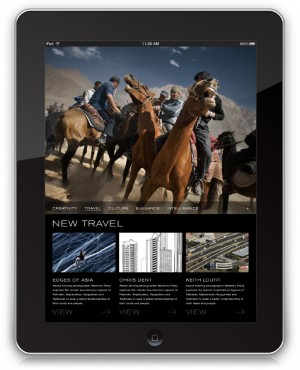 NEW YORK, Jan 13, 2011 / FW / – Lifestyle.  Art.  A way of being.  Day 8 is just that.
Launched in December 1, the online platform and IPAD application created by and managed by luxury label Dunhill differs from the rest.
Weekly updated, the non-transactional application is full of actual content, images, and editorial coverage decided by the marketing team.  Alfred Dunhill, who inherited his father's saddlebury business, was a visionary and ahead of his time.  With that philosophy and the heritage of automobiles, leather, and accessories, Day 8 brings inspiration by bridging technology, culture, and art.
The digital spectrum of Day 8 varies from travel to intelligence ranging through Andrew Zuckerman's fascination with birds, Chris Dent's sketch depiction of the Dunhill world, to bespoke bicycles by 14 Bike Co.
Other content consists of a revolutionary prodigy, Min Kyu Choi's adaptable plug design to Harold Riley, the world's leading portraitist.  Riley has captured Nelson Mandela to the late Pope John Paul II but his true musings stems from letters sent to his brother depicting golf and football.  From conversations and interviews with David Morrissey, James Cameron to the Phantom camera (able to capture at 1000 frames a second) the editorial coverage combines music, film, and photography and is cross divisional in the past and how its effect in the coming future.
These story-telling through the brand continues Alfred Dunhill's definition of tradition and its ever-evolving view of the world and people.  Filled with original video content, this approach lures loyal customers and brings in viewers through the brands' belief, philosophy, and heritage … through Dunhill's eyes.
[ELGENE CASTUERAS]