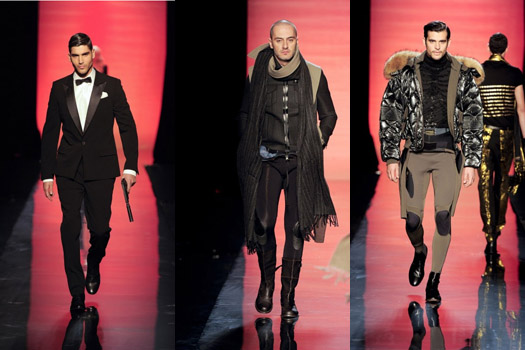 PARIS, Jan 21, 2011 / FW/ — In a very optimistic menswear season, Jean Paul Gaultier did us one better – he brought the future to us and it looks good!
An ultra modern collection that borders on sci-fi/fantasy but never towed the line, Jean Paul Gaultier sees men as warriors with a pioneering spirit like the American Wild West cowboys but this time, they are leading the way to a better future.
Sounds poetic? Perhaps it is. After all, the past several seasons with the Great Recession looming over the whole world had made designer a little bit timid when it came to innovation. But, the outlook had changed and Jean Paul Gaultier is on the front line of those who are breaking new ground.
Slim silhouettes dominate the collection as seen in the neoprene pants and jackets. Though quilted leather pants and jackets were also seen and they were definitely more loosely cut, the elongated silhouette still persists.
Black rules in this collection but the French designer added gold, orange, even some prints and thus making this a very colorful collection.
[MARI DAVIS]