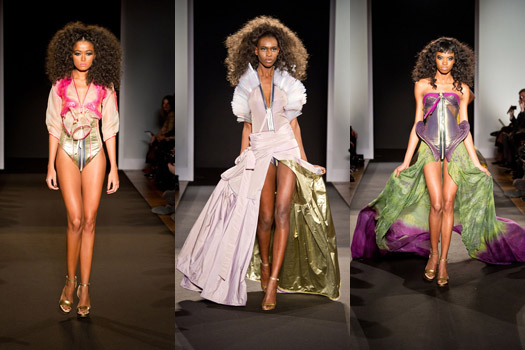 PARIS, Jan 25, 2011 / FW/ — Who said Haute Couture shouldn't be vibrant and fun? This season for his debut collection as a guest member of the Chambre Syndicale de la Haute Couture, Julien Fournié pushed the envelope and delivered a spectacularly entertaining and passionate collection.
The show opened with a futuristic video of Julien in a digital workshop, planning his collection for this show. The short video set an intriguing tone which was followed by the sounds of the seventies.
Upbeat disco and soul music turned this Haute Couture show into a much-appreciated party. Each model looked like a glamazon goddess parading confidently down the runway dressed in vibrant colors that reflected the spirit of the woman.
Silhouettes ranged from provocative bustiers with modern architectural elements, to flowing gowns, and flirty party dresses. Zipper detailing, high-cut hems, feathers, and plenty of pop colors took this collection in an exotic direction.
In my exclusive interview with the designer, I asked him to tell me why he did what he did- what inspired him? He told me, "Forget the crisis. Forget it. We need happiness, color, and black people!"
The significance of using all black models to present his collection was that he wanted to draw attention to the equality and the beauty of the race. Naming famous African-Americans such as Barack Obama and Oprah Winfrey, Fournié stated that he wanted that kind of acclaim and positive attention drawn to the equality of races in France.
The show closed as the enthusiastic models gathered behind a silk screen and danced away to the sweet sounds of boogie music and cheered at the success of the collection.
[LINDSAY McCALLUM]
Photos courtesy of Julien Fournié
Paris Haute Couture Spring 2011
[nggallery id=304]