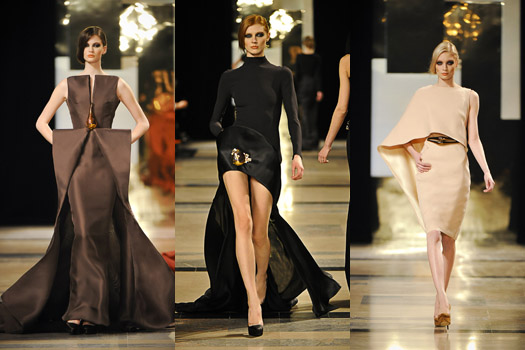 PARIS, Jan 25, 2011 / FW/ — Stéphane Rolland took haute couture to the next level this season with dramatic silhouettes, extreme draping and architectural elements that was to die for.
The couturier asymmetrically draped fabric in a way that kept its form and shape, while also creating modern feminine silhouettes. Metallic accents on the gowns at the waist, shoulder, hip, or collar bone gave the gowns an avant-garde edge.
The most memorable pieces were those with voluminous draping that highlighted the technique behind creating Haute Couture, and highlighted the art behind wrapping the female body in hundreds of yards of luxurious silk, crepe, tulle, and chiffon.
The rich color palette consisted of gold, orange, brown, sandy tan, khaki green, white and copper. Some gowns were high-cut in the front and surprisingly flowing and long in the back, while others created the effect that the dress was in fact very rigidly constructed.
The finale gown of this collection was surprising and luxurious. Rather than the typical white bridal gown that incites ooh's and ahh's, this season, Rolland sent a flaming copper silk onesie with an amazing center gold and crystal embellishment blazing down the runway.
The yards upon yards of silk that flowed behind the model as she walked left a trail that was dripping with the haute craftsmanship of Stéphane Rolland's Sping couture collection
[LINDSAY McCALLUM]
Photos courtesy of Stéphane Rolland
Paris Haute Couture Spring 2011