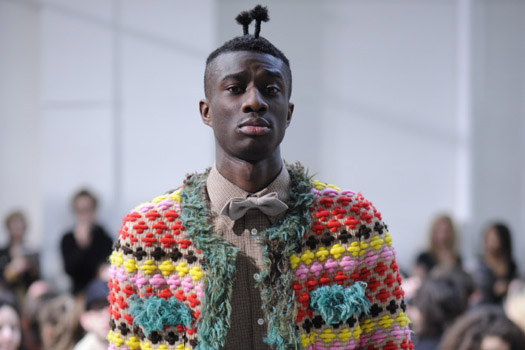 PARIS, Jan 22, 2011/ FW/ — We always expect something new and shocking from Walter Van Beirendonck. And he did not fail to deliver those elements this season.
With a cast of entirely black models, representative of the difference in society today from the 1960s, the collection was full of candy colors and super chunky knits.
Starting the show with something we have noticed in many collections this season, he sent a skirt over pants down the runway. Other reoccurring elements we noticed were let-out side seams of sweaters that gave them a loose construction and made them more like ponchos.
Van Beirendonck used a lot of print and texture mixing in this collection inspired by the shamans of tribal cultures around the world.
Also inspired by the human dream state, each piece had elements that could have been created while on hallucinogens. Some of the most stand-out pieces were the massive, mop ponchos of pink, yellow, green, blue and brown dreads, and the ombre mohair coats.
The knit leggings in varying patterns and colors were complemented by the brightly colored rubber-soled boots.
[LINDSAY McCALLUM]
Photos by Lidia Bardina