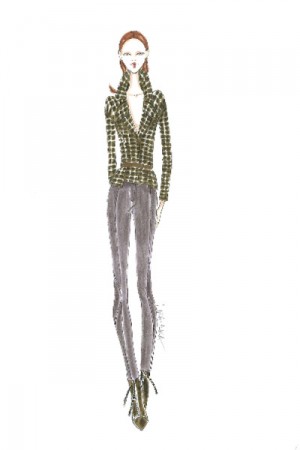 DALLAS, Feb 2, 2011 / FW/ — I have to confess, I am a hard-won fan of Raul Melgoza at Luca Luca. And here is why… I was and still very fond of Luca Orlandi, the founder of the brand and the house.
When Luca Orlando sold the company and "retired" from being Creative Director, I was very sad. But, as an editor, I know that fashion houses continue on even without its founder. And as it went, I kept an open mind about Raul Melgoza, who was Luca Orlandi's first assistant and Orlandi himself handpicked as his replacement.
The first collection that Raul Melgoza showed was not what I expected of Luca Luca. It did not have that uber sexy and uber luxe feel that I'm used to with Luca Orlandi's designs. It was Raul Melgoza's interpretation of the brand and he had every right to do it. After all, he was the new Creative Director.
Season after season, I kept on going and Raul Melgoza grew on me! I like where he is taking the brand. While Luca Orlandi always makes one feel like a celebrity and a paparazzi focus while wearing his clothes, Raul Melgoza has made that fantasy highly covetable while making it reachable.
So, can I have two loves? With Luca Luca, I definitely can!
Catching up with Raul Melgoza via his Blackberry, his favorite mobile device by the way, he gave FashionWindows a sneak peek at his Fall 2011 collection.
Says Raul, "This season was inspired by the adventures to be discovered in the deep woods—the beauty, the color, the fantasy. The whimsy of a fantastical late autumn forest exploration brings to life graceful, flowing pieces."
Inspired by autumn for Fall 2011? That might sound redundant to the editor in me, but truly sounds delicious to the fashionista me.
And the fashionista in me was won over when Raul mentioned that "Throughout the collection, femininity is flaunted with embroidery and willowy prints that metamorphose into delicate lace. The contrasting elements in each piece represent a sexy, sophisticated woman with an uninhibited desire for adventure."
LUCA LUCA Fall 2011
Feb 10, 2011 at 3:00 PM
The Stage at Lincoln Center
Mercedes-Benz Fashion Week
[MARI DAVIS]