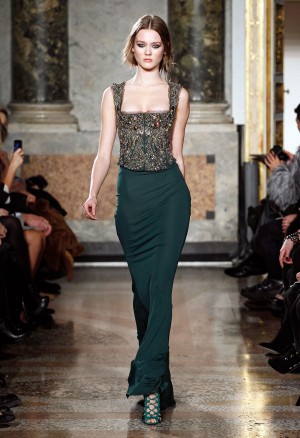 MILAN, Feb 28, 2011 / — Inspired by the Grimm Brothers' fairy tales, Peter Dundas took his audience to the mountains where loden greens, okra yellows, burgundies, robin egg blues and magenta color the foliage of the horizon.
Whether it was by coincidence or planned, Peter Dundas' runway interpretation of the fairy tale "Little Red Riding Hood" coincides with the release of the movie "Red Riding Hood" which is a Freudian interpretation of the same story.
But while the movie is set in a medieval village, Peter Dundas' interpretation is more for the 21st century where Pucci Girl travels through dark forests to dreamy winter "schloesser" in faraway reaching places.
The collection weaves ultra-rich with functionality, utilitarian with precious, often left raw and unfinished. References to the beautiful, inspiring work of Robert Polidori's restoration of Versailles are a point of departure.
The silhouettes are new, yet contained. Narrow "leg-of-mutton" sleeves on precise jackets and riding coats with raw cut edges are worn over ultra-slim trousers in whipcord or suede with applications like a new "lederhosen". Dirndl skirted dresses are corseted while shifts, long and short, in jersey with generous portrait necklines, fringed and embroidered, further accentuate the collection's craftsmanship.
Still, the big surprise of the season is the introduction of the Emilio Pucci menswear line, Capsula Uomo wherein Peter Dundas sent a capsule collection on the runway.
The counterpart to the Pucci Woman, Capsula Uomo is impeccably tailored and proposed in the vibrant colors of the season. "Le smoking" in patterned jacquards and silk velvets are protagonists of the collection yet complemented by essential sportswear.
Introduced by popular demand, the Capsula Uomo is about modern classics; timeless luxury with a touch of rock star.
[nggallery id=315]