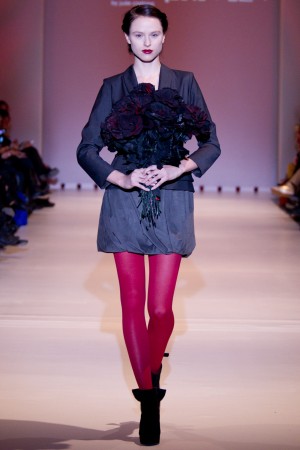 MONTREAL, FEBRUARY 15, 2011 –
While seeing the Bodybag Fall 2011 collection, we were took in an imaginary world were everything seemed magical.  Judith Desjardins, the designer behind the Bodybag label, presented a really young and modern collection, inspired by a modern-day Snow White.
Tempted by the forbidden fruit, this pretty princess became darker; more grown up, she still had a fresh and feminine look. Taffeta, rayon, wool and knits were used to give a new edge to this modern fairy tale heroine. We especially appreciated the details in the cut, which made all the difference: little frills at the shoulder, Peter Pan collar or bubble skirt seemed directly out of a little girl's wardrobe and gave edginess to Bodybag's classic cuts. Cream, taupe, navy and brown just accentuated the drama while red accents, reminiscent of the notorious poisoned apple, round out the fairy tale.
Our so-pretty princess has just become a Queen. 
 Here some of the best looks of Bodybag by Jude's Fall/Winter Collection, presented on February 8, 2011.
[MARIE-CHARLES]
Photos: Jimmy Hamelin
Credits: Sensation Mode