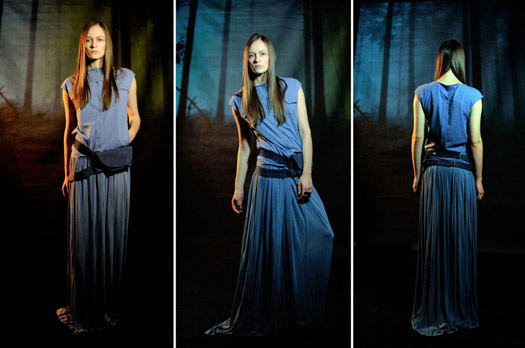 DALLAS, Feb 25, 2011 / — Considered as one of the most promising emerging designers from Ukraine, Valery Kovalksa started her career in fashion as a celebrity stylist. She became famous for her punk-rock stylish accents.
As it turned out, customizing clothes and costumes was just the beginning for Valery; fashion design was where she was heading. "In general, I did not choose, everything just happened (or maybe it was destined)," says Kovalksa.
"For a long time I worked as a TV and concert stylist, and sometimes I couldn't find the right item, therefore I would sew pieces of clothing by myself. It was a great experience and even now, when I have my own manufacturing facilities, I still use every opportunity to sew by hand. So one day I realised that I was ready to make a collection and I did it", she explained.
Valery Kovalska presented her first collection in Kyiv, during Ukrainian Fashion Week fall-winter 2010 seasons and then brought it to the Russian audience (during Russian Fashion Week).
Since then, she has shown regularly in Kyiv and in September 2010, she debuted in London via the "A La Mode" fashion show. Her latest collection was unveiled during the New Look of Kiev Fashion Days, garnering positive remarks from Ukraine's fashion set.
Valery is known for her use of natural/organic fabric like silk and cotton. She excels in double breasted tuxedo dresses and skinny suits. To Valery, fashion is about being young and confident.
Valery Kovalska Spring 2011 Collection
[nggallery id=307]