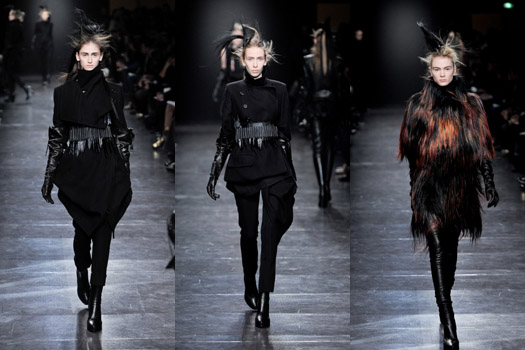 PARIS, Mar 5, 2011/FW/– Ann Demeulemeester lavished undeniable beauty upon us at her show on Wednesday as models were transformed into hybrid bird like creatures.
Saturated in pure black, this collection focused on dramatic leather details, Amazon warrior reflections, and belts loaded with feathers as armor. Spiked hair dyed black and white echoed Cruela Deville in the most sartorially pleasing of ways, and when it should have been intimidating, it was just simply a manifestation of beauty and strength.
Cloaked in head to toe goat fur, models fiercely exhibited strong eyebrows, full length leather gloves, and Indian-like chained necklaces. The show was centered around strong, dramatic silhouettes, formed by corset-laced belts, bustled backs that incorporated a dark version of a 20s vibe, and folded fabrics.
Leather leggings, waistcoats, and wedge boots made the trends undeniably covetable and outlandishly interesting.
[LAUREN SCRUGGS]
Paris Prêt-a-porter Fall 2011