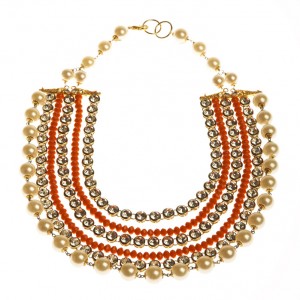 NEW YORK, Mar 16, 2011/ FW/ — Recently opened at Madison Avenue, the Soigne K boutique celebrates India for the modern woman. High fashion, elegant and authentic, the store features accessories and apparel by rarely available Indian designers.
Sprawling over two stories, Soigne K carries a selection of the finest modern Indian designer goods.
On the ground floor customers can find everyday wear: tops, shawls, dresses, scarves and fashion jewelry by some of the best emerging Indian designers.
The top floor offers formal wear: sophisticated evening gowns, fine jewelry and traditional Indian garments, such as one-of-a-kind saris and lehengas.
Prices will range from $500 – $1500 on the first floor, while the formal wear will begin at $2000.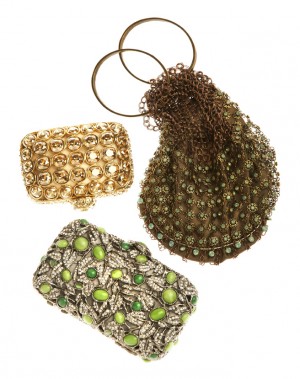 Examples, the layered necklace with pearl, faceted orange beads and glass crystals by Soigne K, $850; 
(Right) the Batwa style pouch bag in antique gold and turquoise by Kennyma , $345; Green moonstone and crystal clutch in antique silver metal, by Clara Kasavima, $2,500; Palm clutch with Swarovski crystals and faceted gemstones by Clara Kasavima, $1,800 (clockwise).
There is also the Indian inspired mosaic pendant with gold beads on a black silk chord by Soigne K, $250; and the wood cut out clutch with rose by Pinky Saraf, $220; Brown leather clutch with agate by Malaga, $425; Rounded small wicker clutch by Pinky Saraf. $135 (top to bottom)
Bracelets with glass, gold plated, turquoise and tiger's eye and kundan handcrafted beads by Soigne K, $255 each.
Top to bottom: Black snakeskin belt and Spinx Oyster buckle, belt $200 and buckle $125; Orange pebbled leather belt and faceted multi-color stone belt buckle, belt $200 and buckle $125; Black snakeskin and white leather belt with ivory and Onyx Riverstone belt buckle, belt $200 and buckle $125; Orange stamped leather belt and large belt buckle with multi-colored stones, belt $200 and buckle $150; Python print leather belt and belt buckle with Onyx Riverstone belt $200 and buckle $125, All belts and buckles by Terry Stack.
Top to bottom, left to right: Handcrafted floral hoop earrings with zircons and emeralds mounted on wood, $195; Handcrafted wooden hoop earrings with semi-precious stones by Soigne, $195; Handcrafted Wooden hoop earrings with pearls, green and blue gemstones, $195, All by Soigne K.
Left and right: Digitally printed chiffon tunics with embellishment by Falguni and Shane; $650 and $650. Center: Printed silk tunic by Diya Collection, $525.
Soigne K not only provides a beautiful and unique assortment of goods for sophisticated women but, also celebrates India by serving as an educational portal. Customers can learn more about the craftsmanship and intricacies of the clothes through streaming videos and events that will take place in the store.