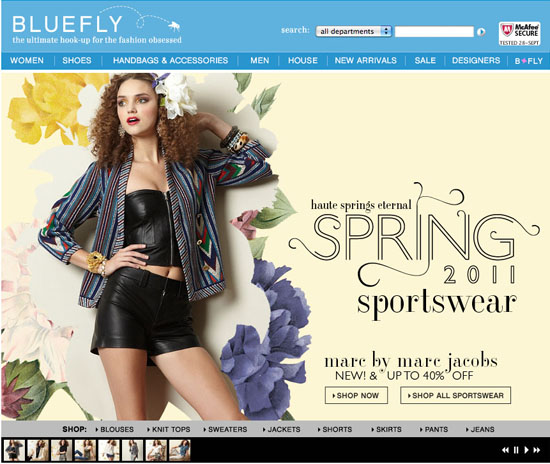 NEW YORK, Mar 2, 2011/ — After one of the colder winters on record, Spring has sprung today on Bluefly.com with 1000s of the most sought after designer must-haves at 20-40% off retail prices.
Nowhere else can you find the season's most relevant trends from over 150 luxury and emerging designers including D&G, Burberry, Robert Rodriguez, Alexander McQueen, Michael Kors, Edun, Miu Miu, and Rebecca Minkoff. Bluefly celebrates spring 2011's most important looks— wallpaper florals, '70s flare leg jeans, maxis, bold colors, flat sandals, crisp whites, peasant blouses, and wedges—all in one shopping experience.
Bluefly's CEO Melissa Payner says, "Spring's refreshingly whimsical pieces are just what we need after a long, blizzardy winter. We're thrilled to present these key looks to our customers at an incredible value." For first pick of spring's freshest designer apparel, handbags, shoes, and accessories, scoot to Bluefly now before it's gone.