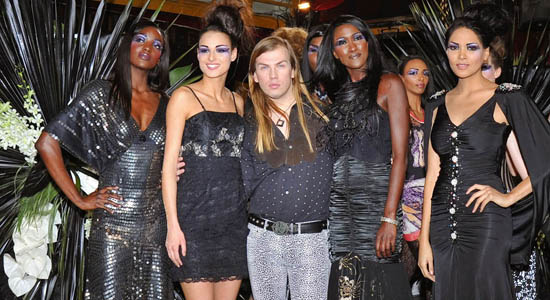 PARIS, Mar 12, 2011/ — Christophe Guillarmé is seduced this season with a black & white spirit clearly timeless for Fall/Winter 2011-2012 focusing on a leading dancer escape from Bolshoï.
A romantic style from Russian ballets tainted with rock-inspired looks from vintage 1940's and a tribute to Agnes Letestu, the designer takes his inspiration from dance universe.
In the exquisite black lace gowns there is the same fierceness requested from a dancer. An amazing amount of hours is needed on each style to recover it with satin tapes or sequined bands to emphasize women's curves.
Fuchsia pink and lipstick red touches are lighting this colour range mixing taupe, pearl grey and a strong black accent in various aspects: from seethrow mesh covered with beading and ostrich feathers to « ombré » angora knit.
Combinations of gathered or braided jersey dresses and lasercut exclusive lace are creatingfor Christophe's muse a strong feeling from Darren Aronofsky movie « Black Swan ».
Photos by Francois Le Prat and Xavier Harel