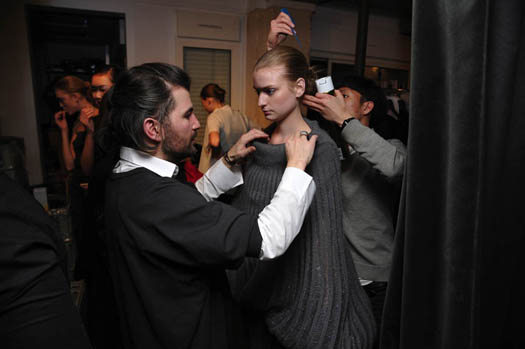 PARIS, Mar 10, 2011/ — Entirely made up of knitwear, the Irakli Nasidze Fall 2011collection draws its inspiration from the unrestrained freedom of migratory birds.
Though it is a small collection, it uses such noble materials as cashmere, silk, mohair and alpaca, sometimes interspersed with lurex threads. Several items provide a delicate blend of cashmere and silk. All these fibers guarantee the most exquisite feeling of softness, suppleness and elegance.
Offering a narrow color spectrum from various shades of black to gray to optical white, it is a very sober and classic color palette that is enhanced by the candy-coloured adornments which give it a vibrant boost.
The silhouettes are nonchalant and aim for comfort. They are based on geometric and symmetric shapes which yet give a slight impression of asymmetry when worn. Most items allow great freedom of movement.
Depending on her personality or on the occasion, every woman can choose to transform her outlook: a shawl effortlessly becomes either a hat or a cape/cloak; dresses can be worn front or back; mock necks are rolled up into hood hats…
Entitled "The Streams of Travel and Serendipity", this collection has been designed with adventurous women in mind. Irakli has created it so that it can be adapted to any situation, whatever the specific place or the mood you are in and whoever you meet.
Paris Prêt-a-porter Fall 2011