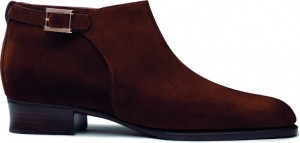 NEW YORK, Mar 24, 2011/ FW/ — Exquisite quality and fine craftmanship tailored to personal style and measurements embodies the aesthetic of lobb's bespoke footwear.  With 150 years of tradition, the inspiration for the collection comes from being 'around the world' concept.
From 11 capitals, two pairs of shoes were created to embody the essence of the city's personality.  A collaboration within the destination's internal team, clients, writers, and artists brings the traditional touch of heritage and modern elegance.
From New York to Paris, London to Tokyo – oxfords, boots, moccasins, and sandals are offered with different skins, various finishings, and individual hardwares.  Personal favorites consists of:   New York's laceless two tone oxford, Tokyo's brown suede low boot, Moscow's oxford-balmoral ankle boot with hand embroidered client's initials on back heel, Taipe's mink calf – bamboo crocodile moccasins, and Dubai's medium brown crocodile sandals.
Inspired by travel, art, culture, business, and the locales of the city – each creation is truly unique.  The pair made and chosen by the client is an extension of personality and taste … so when worn and walking … it is to his own beat and liking.
 [ELGENE CASTUERAS]
Photos by John Lobb