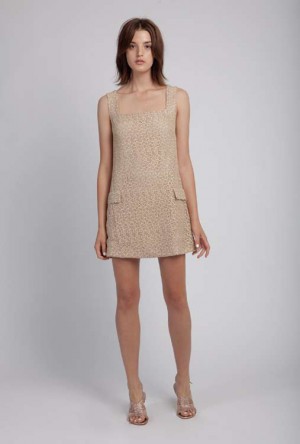 NEW YORK, Mar 21, 2011/ — For Spring/Summer 2011 RAOUL continues its cinematic odyssey by drawing inspiration from another great movie classic, Michelangelo Antonioni's The Passenger, featuring the sexy, confident, rugged Jack Nicholson and the enigmatic, willowy Maria Schneider.
The movie sets the scene for the collection, reflecting the sophisticated, confident and languid style of an independent and chic traveler set against the backdrop of exotic locations reminiscent of Northern Africa and the South of France.
There is a hint of a '70s vintage, a languorous mood that evokes a feeling of a suspension of time, of long summer days and the romance of travel, translated into chic but practical, almost utilitarian and carefree weekend styles that one can travel, work and play in.
With a modern and minimalist take on key references from the 70's, the collection is functional while whispering of luxury and glamour, with relaxed silhouettes and a fuss-free vibe that eases one from day to night.
The RAOUL woman is elegant, fresh, modern and a sophisticated traveller. The collection features a light palette of solid colours with clean lines, interspersed with vintage-inspired prints and beautifully finished with subtle details.
Key items this season include RAOUL's iconic shirts and shirt dresses, chic jumpsuits and playsuits, minimalist long dresses, silk shantung shift dresses with colour blocking or matching lace embellishment, a brocade tunic top with bell sleeves and matching cigarette pants, safari dresses in poplin, canvas or suede, gold and navy guipure lace tee shirts, shorts and tunics, paperbag shorts and skirts with gold eyelet details, an elegant off white ensemble of a long-sleeved chiffon wrap blouse with mandarin collar and wide cuffs tucked into wool flared pants, a swirlydot printed blouse worn under an oversized shantung trench coat, cinched at the waist and paired with tailored wide-legged pants.
[nggallery id=333]