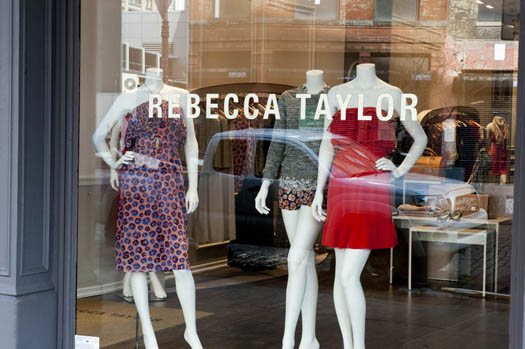 NEW YORK, Mar 17, 2011/ — Kiwi designer Rebecca Taylor opened 1,800 sq. ft. retail space at 34 Gansevoort Street, her second store in Manhattan.
Located at the heart of the Meatpacking District, recognized as the preeminent destination for luxury boutiques, the new Rebecca Taylor store is twice the size of her Nolita space. It offers the full Rebecca Taylor collection of apparel and accessories.
Drawing inspiration from a historic Parisian apartment, the Rebecca Taylor Gansevoort Street location combines traditional craftsmanship, ornate moldings and an original tin ceiling with beautiful, modern architecture.
The designer herself was instrumental in selecting every element of the store from the flattering lighting design to the unique cast-resin furniture, complete with a touch of burnished gold.
Coincidentally, Rebecca Taylor also commemorates the brand's 15th anniversary this year. To celebrate, the designer is launching exclusive collaborations in the store throughout the year with brands such as Citizens of Humanity (denim) and Porselli (shoes) to name a few.
Rebecca is also partnering with sister Tory, a jewelry designer, to create a sterling silver dolphin charm where proceeds will go to saving the dolphins in the Pacific, a cause both Rebecca and her sister feel strongly about.
In addition, the store will offer some of Rebecca's favorite must-haves including luxe candles and scents as well as candy imported directly from New Zealand, a special treat brought from her fairytale childhood home. As an added touch, the designer will also surprise guests each season with new items she selects personally, ranging from her favorite movies and books to home accents.
"When designing our second store, Rebecca wanted to reflect her lifestyle and create an oasis in New York where women will not only want to shop, but also hang out and unwind," said Beth Budgaycay, CEO, Rebecca Taylor. "Our brand has experienced significant growth over the past few years and we are proud to celebrate our success with a new store experience in this iconic neighborhood."
The Meatpacking District store was designed in partnership with London based architects, APALondon, who have also worked with Stella McCartney and adidas to create one-of-a-kind luxury shopping experiences. The firm's approach seeks to represent the designer's expression in material form, while creating a journey through the space that is pleasurable and relaxing within the cacophony and chaos of New York City.
Photos courtesy of Rebecca Taylor