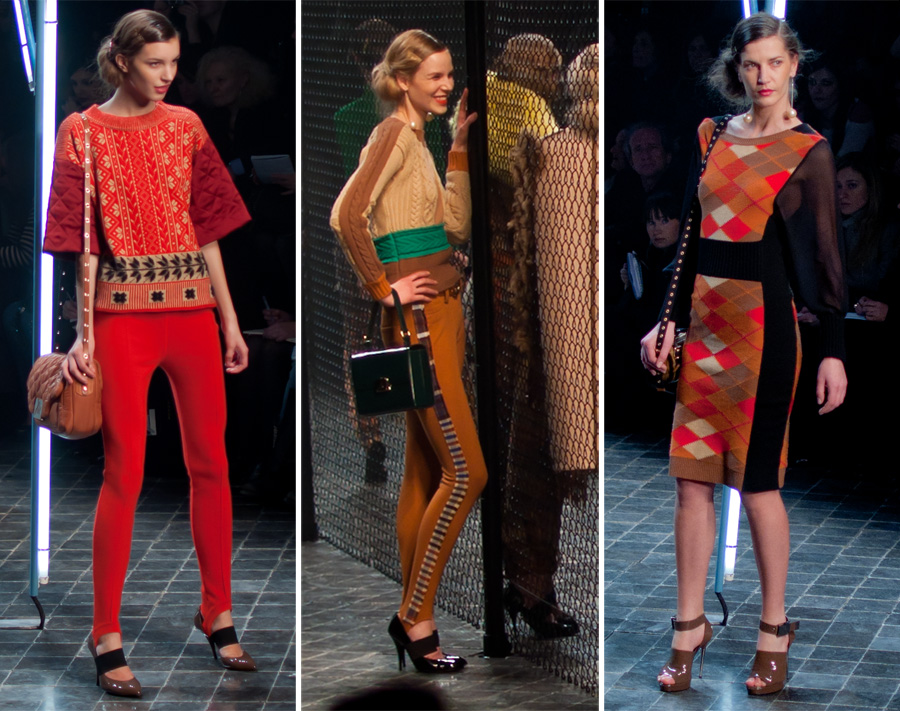 PARIS, March 7, 2011/FW/–With a set much like a Broadway production, metal fencing and fluorescent lighting made for playful model interaction at Sonia Rykiel, where the girls hung out on the runway as new looks came spouting out. The cheerful attitudes caused for quite a charming atmosphere and correlated brilliantly with the colorful collection embellished with bows, metallic stripes, and bright sweater prints.
Plaid and tweed drenched several silhouettes: suits, trousers, gigantic blanket scarves, and oversized jackets. Vividly hued furs completed several ensembles, functioning in the form of collars, scarves, and voluminous coat sleeves. Lighthearted dresses with cut-out details made us all dream of a party, and the wide leg trousers simultaneously made us dream of work.
Hemlines ranged from about the knee to ground level, and platform brogues made for some adorable casual wear. The Sonia Rykiel girl is confident and spunky and not afraid to collage her fabric according to this showing. What a fantastically fun show!
[LAUREN SCRUGGS]
photos by Megan Leahy
Paris Pret-a-porter Fall 2011