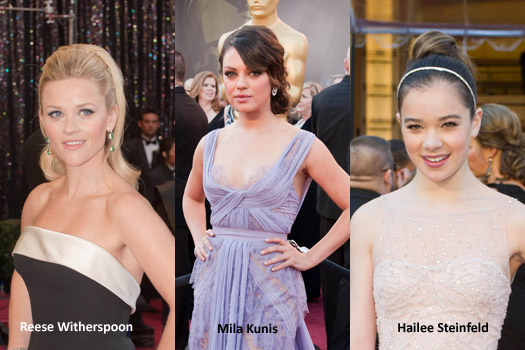 LONDON, Mar 15, 2011/ — It is not just the catwalk that sets trends; the Academy Awards, with its high profile coverage and 37 million viewers for the 2011 Oscars is a fashion pacesetter.
And it's not just the gowns alone. From make-up to accessories and hair, the Oscars is a bell weather for what we will be seeing in high school proms and the Leaver's Ball in the coming months.
Reese Witherspoon is every bit a movie star with her Bridget Bardot inspired high retro-ponytail.
Black Swan actress and That 70s Show alum Mila Kunis chose a soft up-do that framed her beautiful face.
Fourteen years old and already a Best Supporting Actress nominee for her work at True Grit (2010), Hailee Steinfeld's Black Swan-inspired ballerina up do was age appropriate while giving her a sophisticated look.
And while not everyone has personal hairdressers like the Hollywood stars, thank goodness there are the ghd straighteners that can easily achieve these looks at home and on the go.
Available in several models – Classic, Max and Mini, with the ghd styler, red carpet glamour, soft short waves, sexy curls and glamorous waves are literally at your fingertips.
And, the best thing about it, the ghd website has hair styling tips at http://hairstyles.ghdhair.com  
Now, how could you ask for more? Plan your Formals look today!